ASN Wikibase Occurrence # 137247
Last updated: 28 November 2021
This information is added by users of ASN. Neither ASN nor the Flight Safety Foundation are responsible for the completeness or correctness of this information. If you feel this information is incomplete or incorrect, you can
submit corrected information
.
| | |
| --- | --- |
| Date: | 17-MAY-1982 |
| Time: | |
| Type: | Hawker Siddeley Sea Harrier FRS1 |
| Owner/operator: | A&AEE (Aeroplane & Armament Experimental Establishment ) |
| Registration: | XZ438 |
| MSN: | 41H-912001 |
| Fatalities: | Fatalities: 0 / Occupants: 1 |
| Other fatalities: | 0 |
| Aircraft damage: | Written off (damaged beyond repair) |
| Location: | RNAS Yeovilton, Somerset - United Kingdom |
| Phase: | Take off |
| Nature: | Military |
| Departure airport: | RNAS Yeovilton (EGDY) |
| Destination airport: | |
Rolled to the right immediately after leaving the ski ramp at Yeovilton, Somerset. The pilot was unable to correct the roll and ejected. Crash was caused by an asymmetric fuel load condition in the 330 gallon underwing ferry tanks

Per eyewitness report: "At R.N.A.S. Yeovilton it was organised chaos of course; two events spring to mind. One of Ďourí (actually Ministry) development Sea Harriers, XZ438, was doing ski-jump training, when due to human error - i.e, cock-up - only one drop tank was filled. There are no gauges to inform the pilot of this asymmetric state (though a careful tapping on the walk-round might have revealed a lot!) , and as soon as it left the ski-ramp it yawed violently out of control.

I understand itís possible that drop tanks which are supposed to be empty can syphon back from the wing tanks over a period of time - my Father discovered this after a lunch break ! - so maybe thatís what happened to 438. The pilot ejected safely, though I met a member of the ground crew who was watching, realised there was a problem and ran for the A.T.C. door, just closing it behind him when the main undercarriage leg hit it!" (Strange it was not a ground crew that had the main undercarriage chase him it was a member of the ATC buffers party who opened the door on hearing the bang on seeing the wreckage and fire ball heading his way shut the door only for it to be opens by one of the main undercarriage wheels cartoon style then bouncing round the rest room. I was the driver of the Tacr at the time of the crash. Was told by leading hand to go to nose of A/C had to reply where is that? We then saw the pilot landing having ejected and medic one was on route to him we positioned between the wreck and the tower deployed hoses and helped crash one put out the fire.. It was my first real crash with fire.. We had spent the morning being photographed at the end of the ramp with the harrier being over us. Comments were made at the time that it looked unstable! Which proved correct..

The pilot of XZ438 was Lt. Cdr. D. Poole of 809 NAS. The wreckage of XZ438 ended up in the scrapyard of Park Aviation Supply at Faygate by 2005
1.
http://www.ukserials.com/losses-1982.htm
2.
http://www.harrier.org.uk/history/Harrier_Testing.htm
3.
http://web.archive.org/web/20160303231421/http://www.ejection-history.org.uk/Aircraft_by_Type/SeaHarrier.htm
4.
https://www.derelictplaces.co.uk/main/military-sites/14472-faygate-aircraft-scrapyard-1984-a.html
5.
https://www.pprune.org/aviation-history-nostalgia/416896-sea-harrier-accident-reports-looking.html
Wreckage of Sea Harrier XZ438 in the Park Aviation Supply yard at Faygate, Sussex, 2005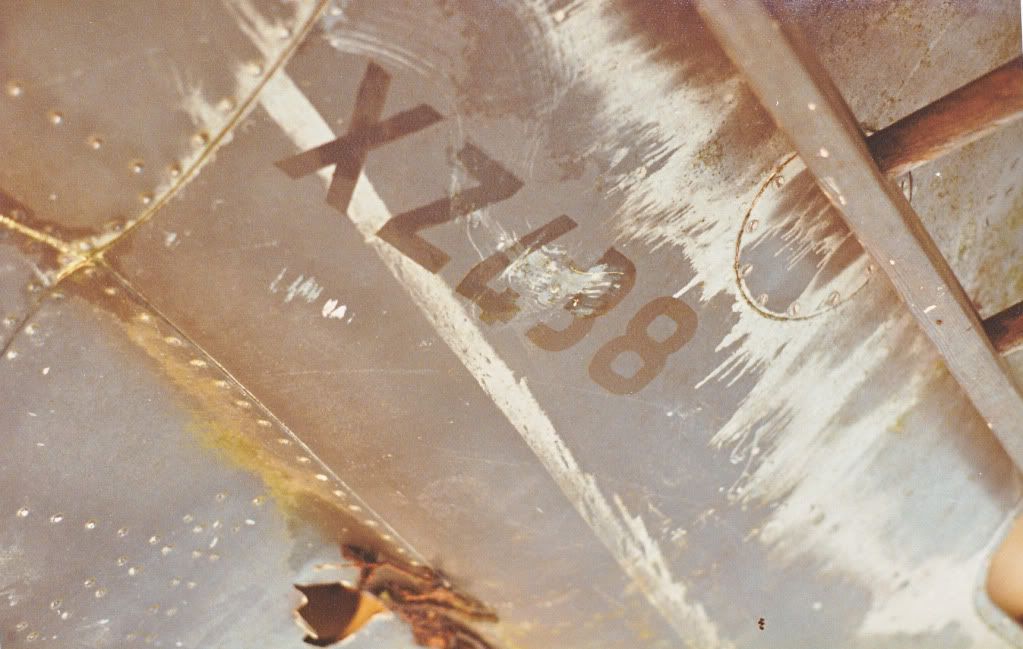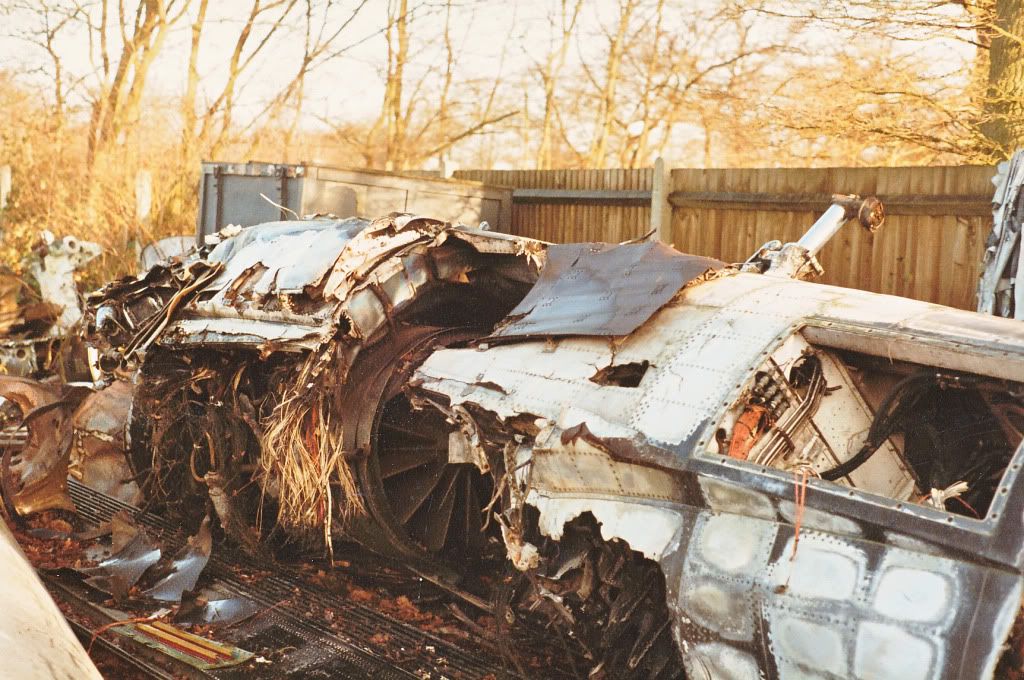 | Date/time | Contributor | Updates |
| --- | --- | --- |
| 02-Jan-2013 03:14 | Dr. John Smith | Updated [Operator, Total fatalities, Total occupants, Other fatalities, Location, Country, Phase, Departure airport, Narrative] |
| 02-Jun-2013 03:24 | Dr. John Smith | Updated [Cn, Operator, Source, Narrative] |
| 19-Oct-2014 17:41 | Route | Updated [Operator] |
| 10-Nov-2014 20:19 | Dr. John Smith | Updated [Embed code] |
| 10-Nov-2014 20:21 | Dr. John Smith | Updated [Embed code] |
| 16-May-2016 18:21 | Anon. | Updated [Narrative] |