This information is added by users of ASN. Neither ASN nor the Flight Safety Foundation are responsible for the completeness or correctness of this information. If you feel this information is incomplete or incorrect, you can
submit corrected information
.
| | |
| --- | --- |
| Date: | 19-JAN-1976 |
| Time: | 12:15 LT |
| Type: | Hawker Siddeley Harrier GR.3 |
| Owner/operator: | 233 Operational Conversion Unit Royal Air Force (233 OCU RAF) |
| Registration: | XV745 |
| MSN: | 712008 |
| Fatalities: | Fatalities: 1 / Occupants: 1 |
| Other fatalities: | 0 |
| Aircraft damage: | Written off (damaged beyond repair) |
| Location: | near the Little Man Public House, Wettenhall, Nantwich, Cheshire - United Kingdom |
| Phase: | Manoeuvring (airshow, firefighting, ag.ops.) |
| Nature: | Training |
| Departure airport: | RAF Wittering, Cambridgeshire |
| Destination airport: | |
Four Harriers were attacking a target from different directions near Wardle, Nantwich, Cheshire. Two aircraft (XV754 and XV745) failed to maintain separation and collided as they crossed over. Both pilots were killed.Pilot of XV745 was Flight Lieutenant James Edward DOWNEY, who, accordiing to accounts made at the time, did not eject, and whose body was recovered from the wreckage of the aircraft.

(Flt Lt Downey has previously ejected from Harrier XW920 at Decimomannu, Sardinia, on 20/6/1972). Per a contemporary account of the accident from the local press:

"TWO single-seater GR3 Harriers were involved in a peacetime mid-air collision over Wettenhall, Nantwich, which killed both pilots instantly.

The accident happened at around 12.15 pm, on Monday, January 19, 1976. One pilot was found still strapped in his ejector seat. The other had tried to eject, a parachute being found near the Little Man public house at Wettenhall.

The pilots of planes XV 745 and XV 754 were taking part in a four-aeroplane low-level exercise from their base at RAF Wittering, in Cambridgeshire, and were about to clear the low-level area when the accident occurred.

An eye-witness reported to a Nantwich Chronicle reporter shortly afterwards that he had seen "four aircraft flying very low and fast. They peeled off in twos and as they were coming back into formation, one of them seemed to misjudge his timing and a plane from the other pair hit him underneath. There was a great ball of fire in the air followed by a terrific explosion."

Other eye-witnesses reported that wreckage "came down like confetti" and aircraft parts were spread over a wide area. Several fell near the Little Man and others in the fields of Elms Farm, Calveley. An 11,000-volt power cable was brought down and some homes were without power for three hours.

The two pilots were identified as 29-year-old Flight Lieutenant James Edward Downey and 30-year-old Flight Lieutenant John Keith Roberts. Both were married with two children and from Wittering.

Three weeks later, on Sunday, February 8, the tiny church of St. David's, Wettenhall, was filled to capacity with local residents and military personnel, with a sermon given by Canon A.D.James, vicar of Wettenhall, an ex-public school headmaster who had, many years before, taught Douglas Bader. After the service, a reception was held at a local farm

One year later, both sides came together again when on Saturday, April 16,1977, a plaque in memory of the two pilots was dedicated at St. David's church by the Rev T.I. Wilson, Assistant Chaplain-in-Chief to the RAF. The names of the two pilots are recorded on the National Armed Forces Memorial at Alrewas, Staffordshire."

1.
https://en.wikipedia.org/wiki/List_of_Harrier_Jump_Jet_family_losses
2. Halley, James J (2001). Royal Air Force Aircraft XA100 to XZ999. Air-Britain. ISBN 0-85130-311-0.
3.
http://web.archive.org/web/20161217162442/http://www.ejection-history.org.uk:80/aircraft_by_type/harrier/harrier.htm
4.
http://www.ukserials.com/losses-1976.htm
5.
https://www.pprune.org/aviation-history-nostalgia/441746-harrier-collision-cheshire-mid-70s.html
6.
http://www.dabbersnantwich.me.uk/askandrew.htm
Harrier XV745 at Wittering in August 1971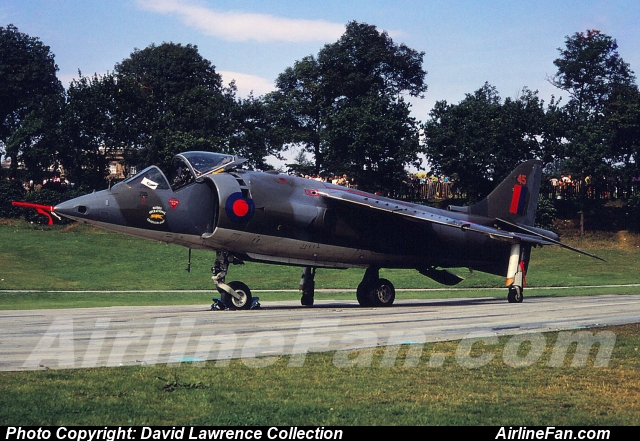 Photo of XV745 courtesy AirHistory.net
| Date/time | Contributor | Updates |
| --- | --- | --- |
| 02-Aug-2011 11:30 | Dr.John Smith | Updated [Cn, Operator, Total fatalities, Total occupants, Other fatalities, Location, Country, Phase, Departure airport, Source, Narrative] |
| 21-Jun-2013 18:13 | Dr. John Smith | Updated [Location, Departure airport, Source, Embed code, Narrative] |
| 21-Jun-2013 18:19 | Dr. John Smith | Updated [[Location, Departure airport, Source, Embed code, Narrative]] |
| 21-Jun-2013 18:20 | Dr. John Smith | Updated [Narrative] |
| 21-Jul-2015 21:19 | Dr. John Smith | Updated [Location] |
| 21-Jul-2015 21:21 | Dr. John Smith | Updated [Time, Location] |
| 04-Dec-2018 09:54 | Nepa | Updated [Operator, Nature, Departure airport, Operator] |